You are looking for an experience of a lifetime. An adventure that does not break the bank or take 20 hours to get to. You want something off-the-beaten path, something you can brag about discovering first. Does something like this really exist? I am here to tell you it does, in Sisal, Yucatán, Mexico and it is called a chalana tour, otherwise known as the secret cenote tour of Sisal. A blend of magic and culture and super affordable with the current U.S dollar exchange rate 18 to 1 against the Peso.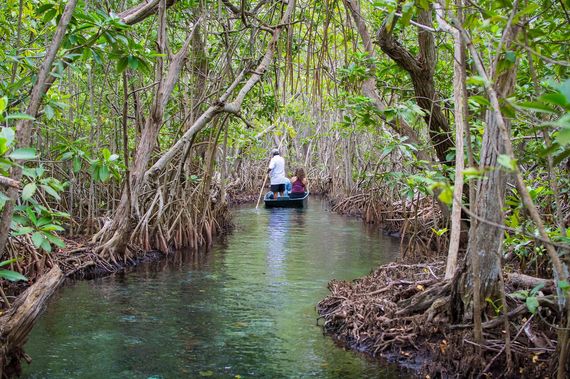 Photo Credit: Jose Ojeda – Ensisal Tours
Cenotes are cave-like swimming holes, and known to the Mayans as the entrance to the underworld or afterlife. They are the wonderment of millions of years of historical underground waters connecting the Yucatán, attracting tourists and locals daily. Each cenote has unique characteristics, and the majority of cenotes are reached by car or hike.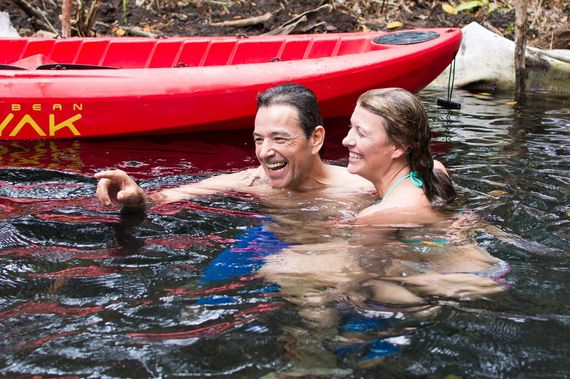 Photo Credit: Jose Ojeda – Ensisal Tours
Sisal's secret cenote is accessed by boat, to an area known to locals as the bocana, or inlet, where saltwater and freshwater meet. Once inside the inlet, you disembark your boat and board two person chalanas (a canoe-like boat), which your guide navigates with a natural bamboo oar through the waters.
Imagine pink flamingos painting the sky, whispers of sea breeze touching your skin, and white pelicans floating effortlessly, as you take the journey to the secret cenote of Sisal aboard your your Mayan gondola, or chalana. The song of the chalana gliding across the water, sluuupppp swiiisssshhhh, swahhhhhh, sleeeeeeww, adding to the morning sun rays kissing the left behind splashes of birds taking flight.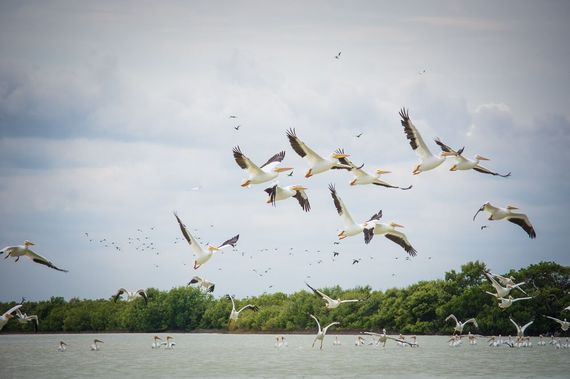 Photo Credit: Jose Ojeda – Ensisal Tours
Approaching an island of mangroves and the chirping sounds of birds, I could not help but notice how many types of birds shared this space. Branches were filled with nests, and egrets were abundant. Glimpses of red cardinals, pink flamingos painting the sky with their long outstretched necks as they flew to their next feeding spot, hummingbirds, and dragonflies kissing the chalana. It was one of the most beautiful sights.
We spotted Yucatán jays, ospreys or fishing eagles, and too many others to name. It could only be described as magic, as you reach the canopied entrance of this off-the-beaten path cenote, leaving you with a feeling of entering the most perfect fairytale dream.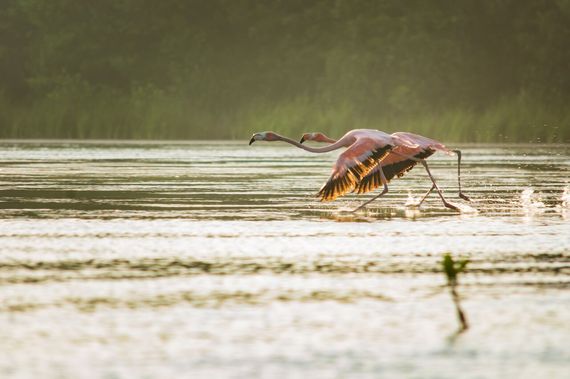 Photo Credit: Jose Ojeda – Ensisal Tours
The camouflage fish of the cenote, called Mojarra, have effervescent blue tails and greet you as you enter the mystical path of mangroves and jungle. It beckons the question, "Which movie you are starring in?" Perhaps "Jungle Book," "The Little Mermaid," "Finding Nemo" or "The Pirates of the Caribbean." A tree of life sprouted from the center of the cenote reminds you of "Avatar," and a place to draw wisdom from. This was Mother Nature's postcard-perfect creation, not a log ride in Disney World or an animated film.
This cenote chalana tour will give you and your loved ones an appreciation for real world experiences and you will learn about Mayan and Yucatecan cultures. The pristine fresh water will beckon a swim, and a Go-Pro is highly recommended.
The cenote has probably seen less than 100 visitors. With only one way to access its location, tour guide, Juan Carlos of EnsisalTours.com, has found something special in the small fishing village of Sisal. The charming beach town sits on the northwestern shores of the Yucatán Peninsula, approximately 45 minutes from Mérida, and 3.5 hours from Cancun.
How do you get there? American Airlines offers direct flights to Mérida from Dallas, and United Airlines has a direct flight from Houston. The flight is approximately two hours from the Texas airports. You can stay in the colonial city of Mérida and do a day trip to Sisal. Ensisal Tours will pick you up from your Mérida hotel (I recommend Rosas & Xocolate or the Hyatt). If you are looking for a remote beach overnight, there is a beautiful B&B in Sisal called Las Hamacas. You will love the palm tree lined streets and storybook pier of Sisal.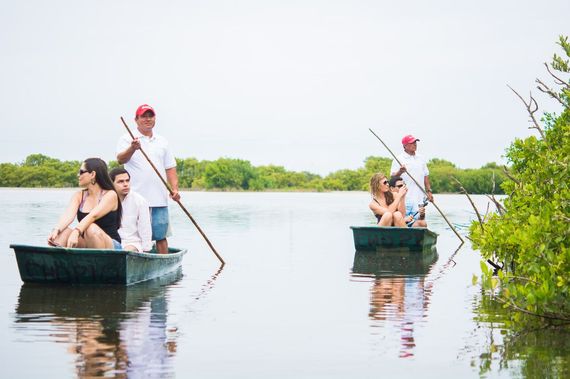 Photo Credit: Jose Ojeda – Ensisal Tours
The tour is an adventure in nature. As an avid traveler to the Yucatán, this three hour tour is one of the most unique experiences I have ever had. It is rare and authentic. Sisal's stunning secret cenote will remain a coveted memory for years. Your heart will forever remember how it felt to live this dream-like fantasy in nature.